Officers from the Richwood Police Department in Ohio – alongside individual K-9s, companions, family and different individuals from the network – arranged to salute one of their own as he took his 'last walk.' K-9 Klink, who might have turned 11 one month from now, had served on the Richwood police office, close by his handler, Eric Nicholson, for a long time.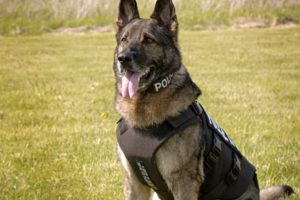 K-9 Klink experienced five herniated circles in his back and was determined to have degenerative myelopathy, a hopeless, dynamic ailment of the canine spinal line, which had caused Klink to in the long run lose the utilization of his back legs. When he was analyzed, Klink resigned following quite a while of devotion and diligent work on the power. He started non-intrusive treatment medicines, which allowed Klink one more year with his family, until farewell ended up inescapable.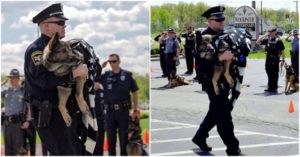 Since Klink couldn't walk on his own for his 'final walk,' his best friend and handler, Officer Nicholson, carried Klink, draped in a 'thin blue line' American flag, into Woodside Vet Clinic, where he would be put to rest. "Klink was a good boy and will be missed," Richwood Police Department wrote on Facebook.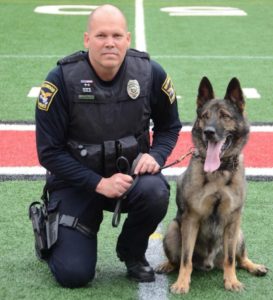 Officer Nicholson says Klink enjoyed "begging for food, barking at you when you have food, eating your food, eating anything, drinking from a garden hose, and cuddling."
Honoring and saying goodbye to K-9 Klink. Our thoughts and prayers are with Officer Nicholson, his family and the Richwood PD. R.I.P Klink 7/18/08 – 5/06/19. K9s4America.org

Posted by Dorsey Films on Saturday, May 11, 2019