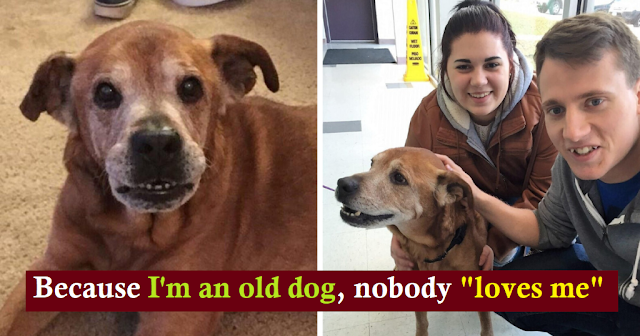 In December 2015, a young animal-loving couple named Beth and Michael decided that they wanted to start the holiday season off right by donating to their local shelter. The couple walked into Anne Arundel County Animal Control with no intentions of adopting a dog. But then, they saw Rocky. The couple learned that Rocky had been in and out of the shelter since 2012. Rocky was now 17 years old, and it seemed like he'd be spending his last years in a cramped kennel.
Beth and Michael immediately felt a connection to the sweet dog. Beth told Bored Panda: "We were there to donate all kinds of stuff that I rounded up with my military community and I saw rocky walk in and I couldn't stop thinking about that adorable old face. Next thing I know I'm walking out with Rocky!" Rocky arrived at Beth and Michael's house just in time for Christmas. The couple made sure that Rocky's Christmas was full of joy! After she brought Rocky home, Beth wrote a sweet letter to her new dog explaining how much she loved him and that she was determined to take good care of him to the very end. Anne Arundel County Animal Control shared the letter on Facebook:
"I took you on knowing we were going to have to take extra care of you. Knowing that one day you weren't going to make it outside in time to use the restroom and I would have to clean it up, I knew one day I was going to have to carry you up the stairs when you no longer have the strength to do it.
I knew you were going to eventually lose your hearing and eyesight and we were going to have to spend extra money to make the house safer for you. I knew one day I am going to have to say goodbye to you.
But until then you are the best gift I have ever gotten and I'm really sad I couldn't give you the best 17 years you deserved but I promise you'll have a great life from now to the day I have to say goodbye!" Rocky settled into life with Beth and Michael, and the couple provided Rocky with everything he needed to be happy, including delicious cups of doggy ice cream!