This far-fetched pair of besties may befuddle a few people, however these two are for all intents and purposes indistinguishable. Herman is a pigeon and Lundy is a chihuahua who as of late met at The Mia Foundation, which represents considerable authority in thinking about creatures with birth abandons. Lundy the two-month-old chihuahua experiences hydrocephalus,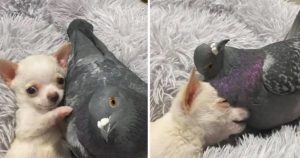 an inborn issue that may prompt cerebrum harm in little varieties. This ailment has made Lundy lose the utilization of his rear legs, making it hard for him to walk. Herman is a wild pigeon who went to The Mia Foundation after a physical issue "left him hanging on by a thread." He has since gotten a perpetual occupant of the safe house and wants to nestle a portion of different patients.
It didn't take long for Lundy to discover Herman's propensity towards cuddling, and he promptly took full advantage of the bird's offers to snuggle with him. The Mia Foundation posted a video of the flightless bird snuggling the dog and it quickly went viral. People fell in love with an unusual friendship. Lundy was probably having difficulty adjusting to his strange new environment and it seems cuddling Herman made him feel much better.
How could they meet? Sue Rogers, originator of The Mia Foundation, clarified how the two initially met to Metro: "I set Herman on a pooch bed and began thinking about Lundy, and I chose to deliberately place Lundy in a similar canine bed close to him. They began connecting promptly in an exceptionally charming manner." The two have been indivisible from that point forward. The two of them invest the greater part of their energy cuddled up in their preferred cover. Lundy just gauges one pound (that is little, in any event, for a chihuahua), and The Mia Foundation is grateful that Herman is keeping him protected and engaged while he recovers the utilization of his legs and starts some exercise based recuperation.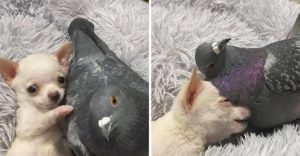 Herman's behavior is very motherly, and some of the workers at The Mia Foundation have started to wonder if Herman is actually a female pigeon. Whatever the case may be, Herman is doing a wonderful job taking care of Lundy. These two are some of the most adorable animals at The Mia Foundation.