The pictures were posted on Facebook after somebody happened upon the scene in the city. From the outset the client "felt that the goose was going to assault the doggy in the wake of seeing it remaining nearby to the little dog."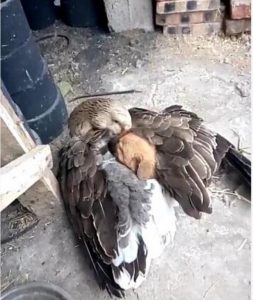 The pup gave off an impression of being relinquished not long after birth and was shuddering awfully neglected. As indicated by the post, the goose didn't stop for a second to fold its wings over the pup and later stroked its head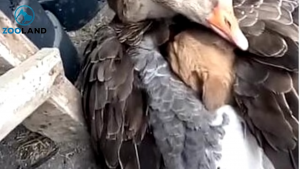 with its snout Real love and fellowship know no limits and for this sympathetic duck, it knew precisely what it needed to do when it saw a shuddering pup on the street.Empathy is a human quality that causes us comprehend the agony others to feel, rousing us to think about others.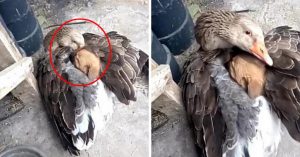 Notwithstanding, in spite of our capacity to relate, too often simply close their eyes and decide not to help. Creatures can feel sympathy simply like people do.They relate to each other, yet moreover with individuals and even with various creatures.They are honest and unadulterated hearted. Also, this goose who spared a little dog from frosty climate is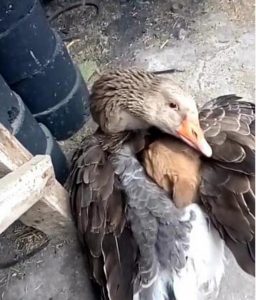 the ideal case of compassion between various species. These photographs of a goose wrapping a shuddering pup with its wings ought to advise us that we ought to consistently decide to help other people. In these pictures, we can see that the goose even utilized its mouth to pet the doggy and make him rest serenely under its warm wings. Here you can see that the pup is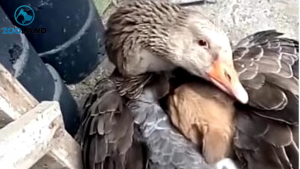 resting easily under the goose's wings. They identify with one another, yet additionally with people and even with different creatures.They are innocent and pure-hearted. And this goose who saved a puppy from freezing weather is the perfect example of empathy between different species. These photos of a goose wrapping a shivering puppy with its wings should remind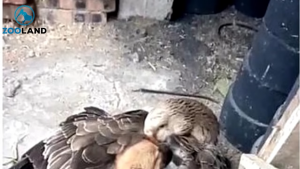 us that we should always choose to help others. In these images, we can see that the goose even used its beak to pet the puppy and make him sleep comfortably under its warm wings. Here you can see that the puppy is sleeping comfortably under the goose's wings.