At the point when we consider hound dexterity challenges, breeds like Border Collies, Shelties, and Australian Shepherds ring a bell. They are quick, fiendish keen, and prepared to submit general direction to their coaches.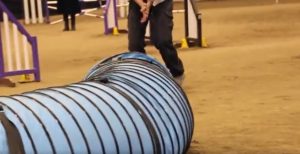 Watching them speed through a course without any difficulty is amazing most definitely. Viewing a mammoth English Mastiff stroll his way through a deftness course establishes a by and large unique connection. In the event that you need a grin today, watch this gigantic and cute person do his lithe best. A More Typical Contender The Golden Retriever in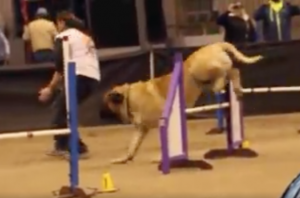 the video beneath is viewed as an enormous breed contender. She whips through this course, which is effectively multiple times longer than the one the Mastiff finishes. It takes the Golden Retriever around 35 seconds to clear the course. She flies over the obstacles and inclines, runs through the passages, and works her way through the weaving posts so rapidly that she resembles a haze. Only for examination, look at this performance.The Mastiff Thinks Twice About Entering the Tunnel First up for this large,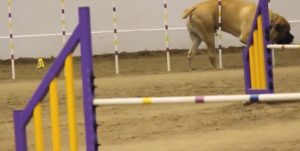 excellent darling is a passage. His mentor provides him the order to enter it and he nearly does. He reconsiders giving her a look that appears to ask, "would you say you are secure with this? That is entirely little… " But she perseveres and he yields. In he goes, at an extremely easygoing pace.The Crowd Shows Him Love as He Clears Hurdles Next up for the large challenger are a progression of obstacles he needs to bounce over. In spite of his heavy size, he frees almost all from them. His foot clipped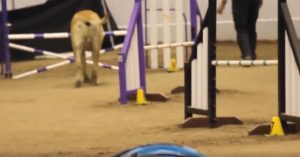 one of the bars and wreck it, however he was courageous. He carried on in his peaceful, quiet, and sure way. The group gave him thankfulness and consolation, rooting for and applauding him at every device along the way.Working the Weave Poles in Record Time Probably the most charming piece of this exhibition is the point at which the enormous person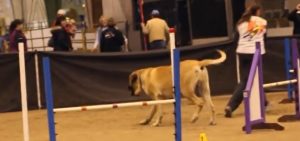 walks around to the weave shafts. He follows the orders flawlessly, in any event, returning to get the last one that he misses the first run through. Be that as it may, he is taking as much time as necessary to do it!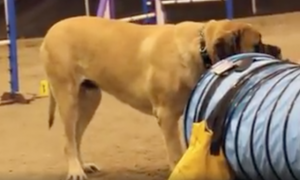 The weave poles are a big challenge for agility dogs, and typically they wiggle through them so quickly that you can scarcely make them out as they go. Not this big guy. It is an absolute delight to watch him slowly but surely sway his way down the weave-pole path.