We are on the whole acquainted with treatment hounds and the significant work they do in schools, medical clinics, homes, and the sky is the limit from there. One group from Southhampton in the UK have an extraordinary arrangement of aptitudes that set their young patients straight. They intend to cause the kids they serve to feel great and unafraid when confronting a battery of restorative tests and strategies.

How would they do it? By submitting to the systems themselves first!They Are Called "Pooch tors" There are six Golden Retrievers on the SCH Therapy Dogs association. Archie, Quinn, Leo, Hattie, Jessie, and Milo are a group of volunteer canines who "visit Southampton Children's Hospital to carry grins to the patients, kin and staff at the emergency clinic."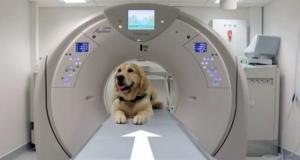 Their Animal Assisted Intervention work covers everything from casual meet and welcomes that spread cheer to supporting children during medicinal tests and procedures.If the Dog Can Do it, So Can I! The SCH Therapy Dogs group is one of a kind in that the canines pretend an assortment of medicinal methodology and procedures for patients before the youngsters experience them.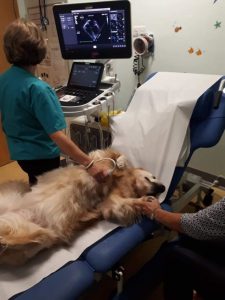 For instance, if a specialist needs to palpate a kid's midriff, the canine will get onto the test table or emergency clinic bed and lay on their back while to specialist shows the palpation procedure. On the off chance that a kiddo requires a MRI, the canine will bounce up into the machine and show the patient that getting into the machine isn't as terrifying as it might appear.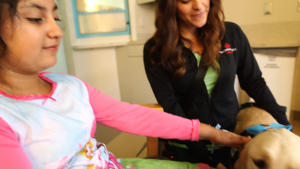 Seeing the canines experience mock forms gives the human patient the certainty they have to experience the genuine system. Also, the canines' very nearness realizes a feeling of quiet and calms worry for patients, paying little mind to what they are facing.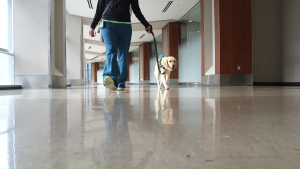 Qualified Handlers With a Positive Outlook There are four handlers on the SCH Therapy Dogs group. Lyndsey, Karen, Liz and Hannah are the handlers and the pooches are their pets and work accomplices.Lyndsey studied Animals & Human Health at the Institute for Human Animal Connection at the University of Denver. She holds the team's Certificate in Animal Assisted Therapy, Activities and Learning. They are proud of the work they do and try to visit as many of the children as possible.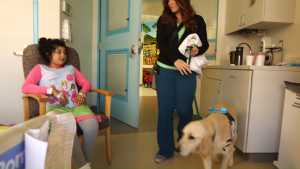 They visited over 3000 patients in 2019 and are looking forward to serving as many or more in this new year.Another story in video: