Tulsa firemen reacted to a salvage call from Susanne Thompson about her stranded canine, Ruby. The 90-pound Ruby, a Great Pyrenees, was caught 50 feet underground in a tempest channel in her lawn.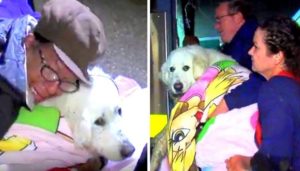 She was frantically attempting to hook out with no success.When the firemen landed at the scene, they surveyed the circumstance and began burrowing through the ground to get to Ruby.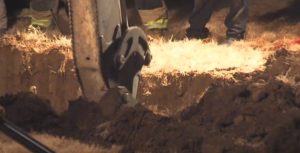 They needed to clear up a pathway and urge Ruby to slither toward the closest opening. In any case, 2 hours passed by and Ruby was as yet stuck in the stifling channel. At this point, numerous city laborers and creature control officials had additionally participated in the salvage.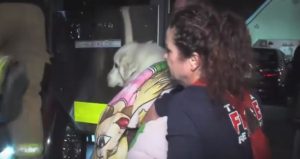 Overwhelming hardware was gotten to help with the burrowing procedure, and the rescuers were at long last ready to scoop out Ruby in the wake of working as the night progressed!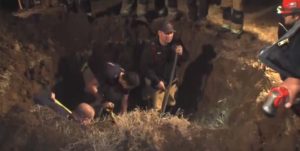 The overpowered and harmed hound quickly jumped into a sad Susanne's arms for a passionate reunion!Susanne says that she has been attempting to get the city specialists to make a move about the open channel for quite a long time, yet nobody tended to her interests. After this unnerving occurrence, the firemen dread that the tempest channel is a risk zone for kids also.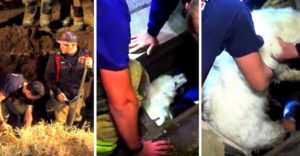 Specialists have requested that individuals report such risky openings in their neighborhood. Remain safe and get the word out!The overwhelmed and injured dog immediately leaped into a tearful Susanne's arms for an emotional reunion!Susanne says that she has been trying to get the city authorities to take action about the open drain for years, but no one addressed her concerns.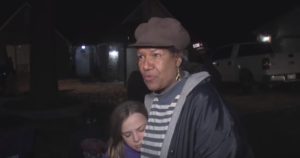 After this terrifying incident, the firefighters fear that the storm drain is a danger zone for children as well. Authorities have asked people to report such dangerous openings in their neighborhood. Stay safe and get the word out! Click the video below to watch Ruby's painstaking rescue and her tearful reunion with Susanne!