Indus, a two-year-old Husky/Malamute/Timber Wolf blend, hadn't seen his military father, Devin Ekstom, for ten weeks while he was away for essential armed force preparing.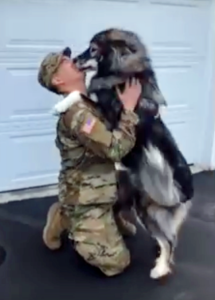 Ekstom got the chance to return home for these special seasons, however Indus had no clue that his human was going to get back home and shock him.Devin's better half, Morgan, got the unexpected get-together on record at Devin's parent's home in Northwood, New Hampshire, and it will give all of you the feels.     Indus turns around to see who he thinks is a stranger walking up his driveway and begins to bark at him.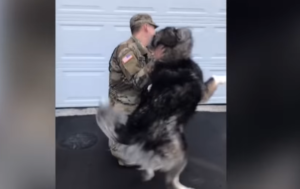 However, as he strolls nearer and gets a whiff of his fragrance, he understands this is certifiably not an outsider by any stretch of the imagination, rather his trooper dad!As soon as Indus understands it's him, he bounces on him and covers him with kisses. He strolls around aimlessly, swaying his tail, incapable to contain his fervor.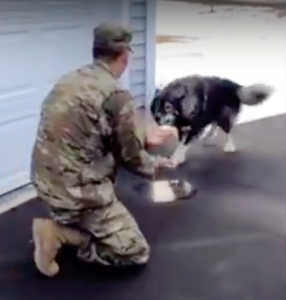 While ten weeks may not appear to be quite a while for us, it felt like an unfathomable length of time for Indus to be without his closest companion. Devin was similarly as glad to see his furbaby again and said he felt upbeat and overwhelmed by the adoration Indus gave him during their reunion.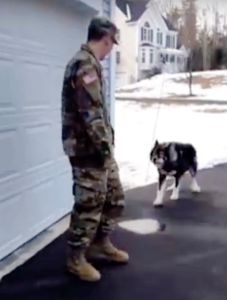 Watch the endearing minute they see each other again in the video beneath:But as he walks closer and gets a whiff of his scent, he realizes that this is not a stranger at all, rather his soldier dad!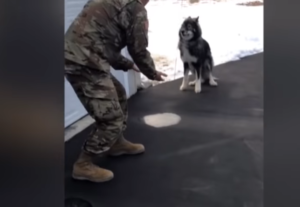 As soon as Indus realizes it's him, he jumps on him and smothers him with kisses. He walks around in circles, wagging his tail, unable to contain his excitement.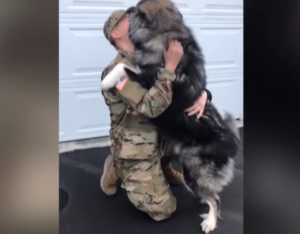 While ten weeks may not seem like a long time for us, it felt like an eternity for Indus to be without his best friend. Devin was just as happy to see his furbaby again and said he felt happy and blown away by the love Indus gave him during their reunion.Watch the heartwarming moment they see each other again in the video below: