Matthew B., a truck driver from Texas, always found joy in traveling cross-country with his favorite companion: a three-year-old-cat named Ashes. He and Ashes would spend their days on the road, enjoying peaceful road trips and extraordinary sights.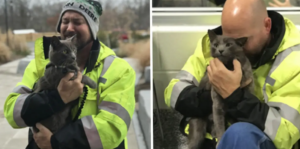 Unfortunately, a few months ago, Ashes accidentally slipped out of the 18-wheeler they were traveling in as they passed through Springfield, Ohio. The unfamiliar surroundings scared the cat and prompted it to run off into the bushes, causing Matthew to search frantically for his best buddy.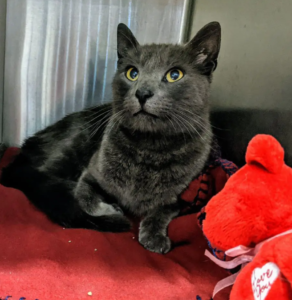 He spent a long time looking for Ashes. Over the next couple of months, he did his best to look for the cat and even rearranged routes so that he could return to the place where he last saw Ashes.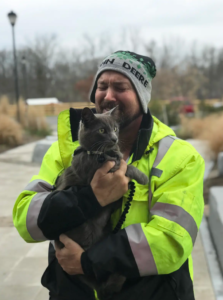 Sadly, he had no luck and eventually decided to give up the search and get back on the road.Just when Matthew came to terms with the fact that he would never see his travel buddy again, a woman named Kimberly approached him to inform him of what could possibly have been an Ashes sighting. "He was trying to not put his feet down on the ground, it was so cold," she shared.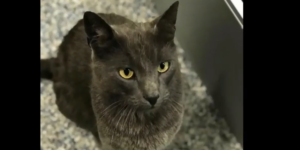 Kimberly also mentioned how the cat seemed to have been trying to get her attention when she passed by. Here's the impressive bit: it turns out animal shelters and rescue organizations follow a SOP of scanning incoming pets for microchips. Described as an object as small as a grain of rice, these microchips have proven effective in bringing lost pets back home.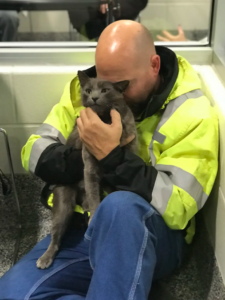 (Who knew pets could have microchips now, right?) Luckily, Ashes had one – a lead which helped the team determine just how far the cat was from home.So when the concerned passerby brought Ashes to a nearby animal rescue organization called Lollypop Farm, it wasn't hard for the employees to track down Matthew and let him know his cat was safe and sound.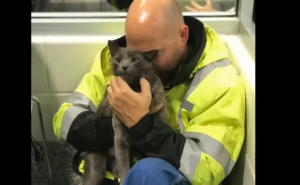 "This was one cross-country kitty," remarked a member of the organization when the team discovered Ashes was 1,465 miles away from home. They immediately got in touch with Matthew, who was overjoyed at being reunited with his travel companion. Relieved that Ashes was in good hands, he wasted no time and went to pick up his cat.