What began as an awfulness story for one pooch proprietor has transformed into a superb "home for these special seasons" gathering, on account of one man. The story started when a flimsy, stray Pit Bull was discovered alone in the city in Maryland in late November.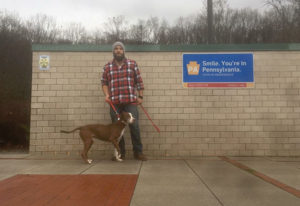 Luckily, the canine had a microchip, and the Caroline County Humane Society had the option to arrive at his proprietor, who lived 1300 away in Wichita, Kansas. "We called the number and addressed his mother.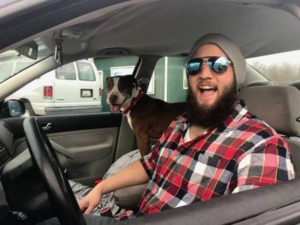 The story is as per the following: His mother's beau left Kansas to come to Maryland for a short remain with their pooch. Be that as it may while he was here, the couple separated. What's more, the 'now ex' relinquished Zimba.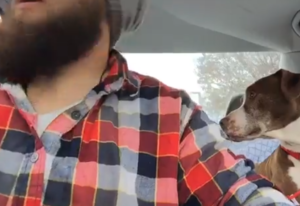 He would not restore her telephone calls," the Caroline County Humane Society (CCHS) identified with KSNT News. The creature cover attempted to orchestrate to get Zimba home since his mother couldn't make the drive due to her kids and her activity.
They reached aircrafts, the first Humane Society where his mother had initially embraced him, yet couldn't concoct an answer. That is when Zach Holt ventured up. Zach used to work for the CCHS and he offered to drive Zimba back home!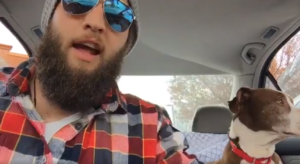 "I'm a barkeep," he disclosed to WJZ Baltimore. "I carefully work, you know, the ends of the week and Monday and I have Tuesday, Wednesday, Thursday, Friday off. Furthermore, four days is a lot of time to get to Kansas and back, so I stated, 'Why not?'" That's when Zach and Zimba's Great Adventure started and was chronicled by the Humane Society.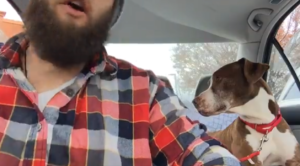 The people group contributed gifts to help pay for gas and lodgings and Zach posted pictures and recordings of their excursion. At long last, half a month after he was found, Zimba arrived at his goal and was back in his mom's arms. "Zimba – sheltered and content, composed CCH, sharing an image of Zimba rejoined with his mother. "We might want to by and by thank every one of you who have pursued, upheld, gave and rooted for Zach and Zimba during their amazing experience. And, of course, we can never thank Zach enough for driving all the way from Ridgely, MD to Wichita, KS to make one family's…and one dog's Christmas wish come true. There truly is no place like home."
Posted by Zach Holt on Tuesday, December 5, 2017
"Hopefully we can all take a lesson from this," CCH wrote. "As Zach said in his interview, using the words of his friend Ben Cahall…we should all JUST TRY. We can all make a difference. No matter how large or how small." They added, "And remember: microchips do work! Zimba would never have found his way home without his…and his mom had properly registered it and kept information current!" Here is a video of Zimba's reunion with his family shot live as it happened (note: reunion begins at 14:59).
WATCH THE REUNION LIVE:A Maryland man arrives in Wichita tonight to return a family's dog. Zach drove Zimba across the country for the reunion, and Jacob Albracht is covering it live. http://bit.ly/2AVePyz #zachzimba

Posted by KWCH 12 Eyewitness News on Wednesday, December 6, 2017