A mother hound who was deserted with her little dogs on a rustic street in Ireland is presently sheltered gratitude to a Good Samaritan. Photographs discharged by the Irish Society for the Prevention of Cruelty to Animals (ISPCA) show the canine binded to a door with her young doggies suckling at her tummy. The wanton demonstration has shocked canine darlings.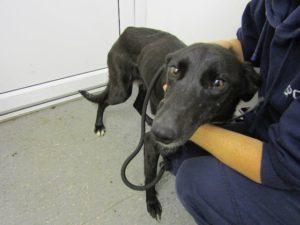 Luckily, the ISPCA was cautioned to the canines' situation by a Good Samaritan who detected the mutts. They swooped in to protect the mother and her little guys before the cold and downpour put the mutts in outrageous danger.The hound, associated with being a lurcher, was brought to the ISPCA National Animal Center in Longford, where she and her young doggies were inspected by vets.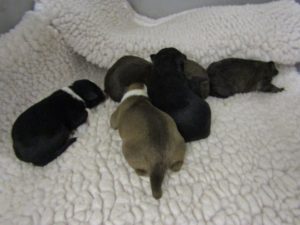 They were cold and hungry however were generally in great health."Leaving a youthful canine just two years of age tied up without water, nourishment or safe house undoubtedly put her alongside her young little dogs' lives in danger, ISPCA focus chief Hugh O'Toole said in an announcement. "I don't see how anybody can think it is alright to leave a pooch attached to an entryway to nurture her doggies."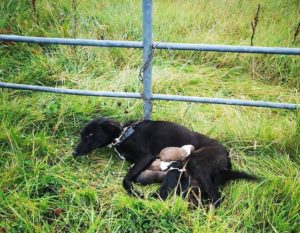 Although it is a lawful necessity for hounds in Ireland to be microchipped, the mother didn't have one. To what extent she and her little dogs had been disregarded is obscure and the specialists presently have no leads. The pooch has been named Emmy Lou and her six young doggies have additionally been named: Billy Ray, Dixie, Dolly, Dotty, June and Patsy.   They will all be staying at the shelter until the puppies are weaned and only put up for adoption in the New Year.