At the point when Paul Grondahl and his family lost their pooch Daisy, he composed this wonderful tribute to pay tribute to her: I lifted Daisy, our 14-year-old dark Lab, from the secondary lounge of the vehicle. I set her tenderly onto a dark colored cover spread on the floor of the veterinarian's test room. Caroline stroked Daisy's dim gag, which rested in her lap.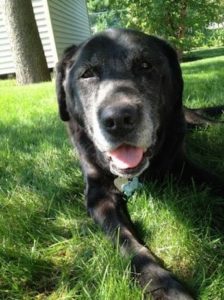 It was seven days after Caroline's eighteenth birthday celebration, two weeks after her secondary school graduation and under two months before she leaves for school. Presently, another section anticipated, one we had feared for quite a long time. Daisy ended up incontinent, and her rear legs started to wobble and waver like an old broken entryway. With each crisp outrage, a greater amount of the sparkle left her dark colored eyes. A week ago, those profound pools of profoundness appeared to entreat us to release her with poise. She was 98 in pooch years and we had crossed a scarcely discernible difference between a longing to keep Daisy in our lives and to do what was altruistic for the canine.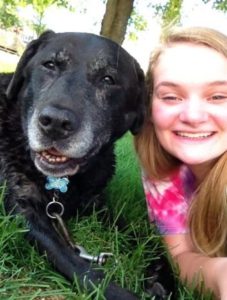 My wife, Mary, sat on a bench in the room and clutched Daisy's collar. I stretched out on the floor and spoke to Daisy in a soothing voice and told her over and over what a great dog she was. I rubbed her ears and the velvety tips still felt puppy-soft. There was a box of tissues and we each began to empty its contents. We had given the puppy to Caroline as a surprise gift on her fourth birthday. Caroline's face radiated pure joy as a small black fuzzy ball of mischief scuffled behind her and licked her arm. I captured that moment in a photograph.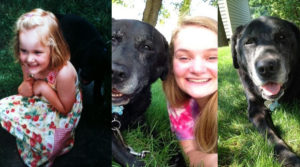 This was several months after we put down Jazz, our black Lab mix, at 13. Few things can compare with a childhood shaped by the unconditional love of a good dog. We wanted that bond for Caroline. Daisy was the first purebred I had ever bought after adopting dogs from the pound. We got her from a breeder who worked with my wife. I took Caroline to play with the puppies on a pretext a few weeks before her birthday, and she gravitated to Daisy, the runt of the litter. I think she felt sorry for the timid little pup who got pushed around by her more aggressive siblings. Daisy came with an AKC certificate and a folder that included a family tree detailing her championship pedigree.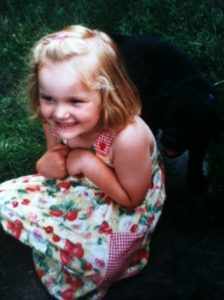 I lost the paperwork, but the breeder had leveled with me. Daisy could never be a show dog because she had small white patches behind her front paws and other slight imperfections. She was a family pet who was never a champion in anything except this: The love she brought into our lives was world-class. She deserved some kind of ribbon for her appetite. She was never finicky and ate the same brand of dry dog food her entire life. When she heard the nuggets hit her stainless steel bowl, she began to perform what we called "the dinner dance." It was a spinning, whirling dervish motion in which all four paws lost contact with the ground. She could Hoover a cup's worth in less than 30 seconds. Even in her final days, she did the dinner dance, a slow and creaky version with a single rotation, before plowing into her food. She never left anything in the bowl.