The Crufts canine show is home to probably the best ability around. In any case, with the majority of the challenge going on's, will undoubtedly be some fizzles and bloopers sometimes! The video underneath demonstrates probably the most clever minutes at Crufts.
The comedic help we get with the canine show is my preferred piece of the occasion, and there's a ton of it to be had here! From pooches running over to welcome the group of spectators and ceasing to take restroom breaks to their mentors taking a few tumbles mid race, the occurrences are changed with hilarity!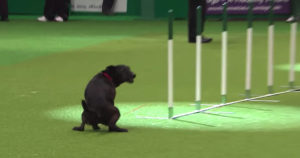 Two thumbs far up to the majority of the members win, lose, draw, or chuckle!
Another story here:
Every year at the Westminster Dog Show, at least one dog decides its not feeling very competitive. This year, that dog is Winky the Bichon Frise. During the agility course, Winky decided he was in no rush — and the crowd loved every minute of it. Winky was trying to beat the best time of about 40 seconds, but the pup finished in 192 seconds, racking up 92 faults. The winner completed the course in 32 seconds. Winky, though, is the real winner in our hearts. Watch the video below: