Baby panda, Xiao Liwu, is introduced to a ball for the first time as part of his 18thexam at the San Diego Zoo. Caretakers gave it to him to test his coordination and to encourage him to play with new objects.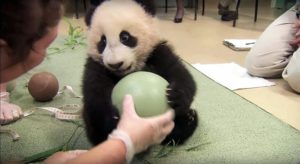 Little Xiao Liwu was enamored by his new toy ball and did everything in his power to hold onto it, but his coordination would prove to need more work as he rolled around on the ball, unable to keep his balance. He was also given some bamboo and a tree limb as well, which he has seen before, so he wasn't as excited about those objects as he was with the large ball.
A caretaker holds onto the ball at one point, but Xiao Liwu refuses to give it up and holds on to it for dear life.Every time the ball rolled away, caretakers would give it right back to him. He quickly grabs the ball again, trying not to let it slip away this time. It's clear that he loves his new toy. He's having the time of his life!
The exam went well and Xiao Liwu, who was only a few months at the time, weighed 14.5 pounds and was 29 inches tall.Today, Xiao Liwu is a healthy adult panda and still resides at San Diego Zoo. Watch Xiao's adorable experience with the ball in the video below: