Sheekilah Jones was holding on to get her transport to work one day when she heard something all through the generally tranquil, early morning neighborhood. It was a thumping sound, yet nobody was near. In any case, she continued looking, and that is the point at which she saw it… There it was: a dark feline roosted over the handrail pawing at the knocker on the entryway precisely like a human!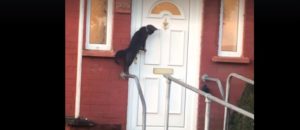 He must've needed back inside, and he realized the most ideal approach to get his proprietor's attention. Sheekilah couldn't trust her eyes and ears and recorded some of it for the viewing pleasure of anyone passing by. In any case, she didn't get the opportunity to stick around and see whether the thumping really worked.
"I was enticed to proceed to thump somewhat harder for him, yet then my transport came," she revealed to The Dodo. "So by then I jumped on the transport, still in stun." Too amusing! The video has since been seen 19 million times, and it's anything but difficult to perceive any reason why. "I was tempted to go and knock a bit harder for him, but then my bus came," she told The Dodo.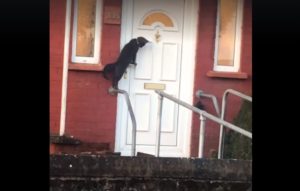 "So at that point I got on the bus, still in shock." Too funny! The video has since been viewed 19 million times, and it's easy to see why.