At the point when Delfina Plaja and Olivier Tops embraced a pup named Taco, they knew there would be loads of duties regarding the wedded couple to share. From preparing to play time, the new young doggie guardians would be always occupied. Since the youthful little guy would need heaps of potty breaks outside as he was being house prepared, Delfina invested a considerable amount of energy with Taco in their carport.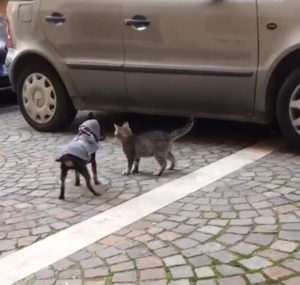 As destiny would have it, that is the point at which she found a little, startled cat that would before long become significant in Taco's life.The modest fuzzball of a cat was covering up in the garage and parking garage close to Delfina's home.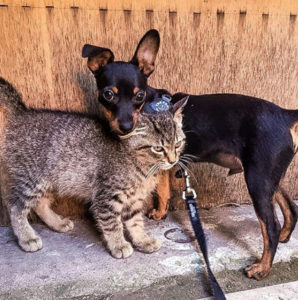 Despite the fact that he was hesitant around people, when the kitty saw Taco, he couldn't look away.The little feline rose up out of its concealing spot and painstakingly crawled towards the young doggie, anxious to get close.As soon as the cat was close enough to contact Taco, he scoured facing him affectionately and twisted his tail around the puppy's body.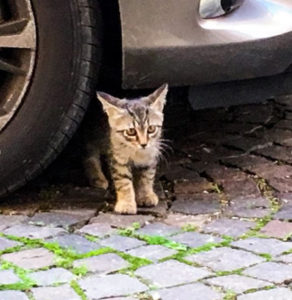 It resembles they were closest companions for quite a long time and were at last rejoined — the fellowship just appeared intended to be! Delfina before long found that the stray little cat had been living in the carport and parking garage territory close to her home and was being nourished by a neighbor.Moved by the solitary cat's predicament and adoring frame of mind, Taco's mother before long brought the cat some sustenance and treats. She would have liked to pick up the restless kitty's trust after some time.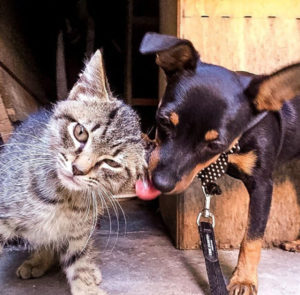 So, during each potty break, Taco and the stray would cuddle, play and get to know each other. Soon, the small tabby cat would be waiting for Taco and Delfina in the parking lot every single day.One stormy afternoon, Delfina saw that the kitten walked up to Taco shaking and wet — and that's when she knew something had to be done.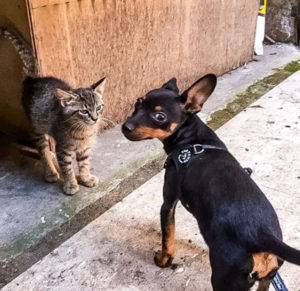 Instead of leaving the sweet kitten outside, she carefully scooped him up and brought him in the house with Taco. It was finally time to show this little stray what a loving home looked like!