To some, it may seem like dogs are like babies. They both behave in similar ways, that's for sure! Think about it for one second. First off, they love to play. Another point is that they both love to take naps. The third is that they just can't keep anything out of their mouths! Here we have a dog doing very baby-like things with a pacifier. Who knew that a dog would love it as much as a baby would?
Don't deny it, you treat your dog like the baby of the family. We all do, it's okay! What a better toy then to give this golden retriever a pacifier? Better not try to take it away though, the growling that ensues is probably a good cue not to do so.You do something very similar with an infant, on the off chance that you take it out, once in a while all you'll hear is crying, so you give it back.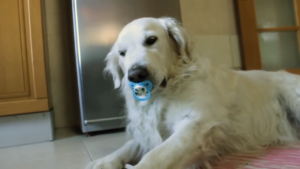 Despite the fact that this brilliant retriever wouldn't like to surrender that pacifier, it unquestionably looks charming in that doggy's mouth!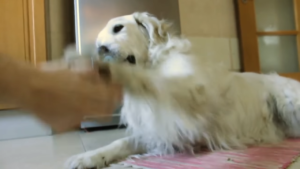 You do the same thing with a baby, if you take it out, sometimes all you'll hear is crying, so you give it back. Although this golden retriever doesn't want to give up that pacifier, it definitely looks adorable in that doggy's mouth! Visit Rumble.com to get your daily dose of doggies!