Valia Orfanidou, a devoted creature rescuer in Greece, was visiting a haven in Mani for a couple of days when she heard a little cat weeping for 24 hours in a row on the second floor of a pinnacle house. As the hours went on, the cries became exceptionally edgy, and a group of non domesticated felines held up tensely below.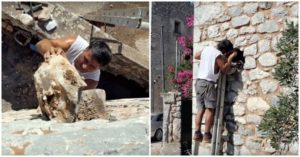 At first, Orfanidou expected the little cat was stuck under wooden sections of flooring, so she left nourishment around the majority of the openings, planning to urge the cat out from covering up and demonstrate her the way. When regardless she didn't see the little cat, yet keep on hearing her cries, she had another rescuer come the following day to support her.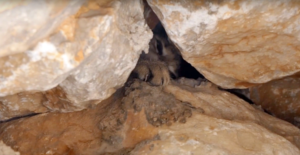 For reasons unknown, the cat wasn't under the floor all things considered; she was in a spot they least expected: inside the divider, caught between the stones, unfit to move.The salvage took about two hours in 104-degree heat. Rescuers needed to expel the stones to make a major enough opening in the divider to reach in and get the cat. Fortunately, the little cat was brought to wellbeing.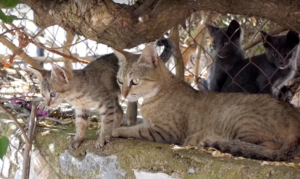 Her non domesticated family lives in the area, and the proprietors of the pinnacle house continually give them crisp water and food.Rescuers carried the kitty to her family and rejoined them. They were all relieved to finally see each other again. Rescuers plan on catching the mama cat to spay her and will also spay and neuter her four babies once they are old enough.