A daring man helped evacuate a vehicle tire stuck solidly around an ocean lion's neck in Argentina. The ocean lion was spotted on the Argentinean town of Mar del Plata with the elastic tire noosed around its neck.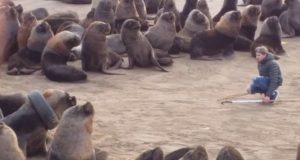 The volunteer creature salvage bunch Fundacion Fauna Argentina (FFA) was alarmed and a gathering of volunteers went to help, among them one young fellow who might hazard drawing near to the ocean lion to attempt to pull the tire off himself. It took a few endeavors and two days to expel the tire without harming the creature. They built up an exceptional instrument so as to snare the tire and afterward pull it with a rope. In the primary endeavor, the young fellow approaches with a long snare and can snare the tire.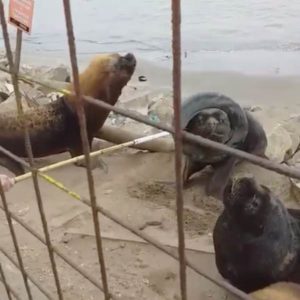 Be that as it may, he doesn't have the solidarity to pull it off himself, and the ocean lion maneuvers him into the center of the group!The situation was too dangerous for both the sea lion and the man so their second attempt was from behind a fence.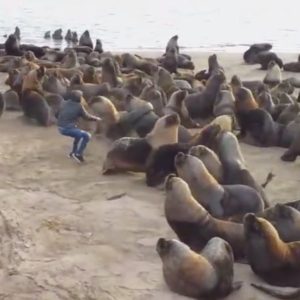 But the tire wouldn't come off and the sea lion was too strong and pulled the pole out of their grip. The third attempt occurred the next day and the young man this time attached a hook and rope to the tire with others tugging on the rope from further ashore.
Rescate del lobo marino que lleva una cubierta de automóvil en su cuello. Hoy por la tarde, técnicos de la FFA realizaron una maniobra de rescate, estuvieron a centímetros de poder liberarlo… mañana seguirán trabajando con él, para ello están desarrollando una herramienta especial que permita deslizar el elemento sin lastimarlo.Volvemos a aclarar que el ejemplar no está lastimado y tampoco peligra su vida.Repudiamos enérgicamente a quiénes hacen de este planeta un BASURERO. Y por último: más de tres décadas avalan nuestro trabajo… construya con su crítica "querido lector", es mucho más sano, el compromiso de 35 años no se destruye con 4 iluminados que pretenden saber lo que se debe hacer en este caso… el compromiso es inalterable y se traduce en SALVAR VIDAS.

Posted by Fundacion Fauna Argentina on Monday, July 8, 2019