A man in Canberra, Australia, rested off for a snooze outside and woke up to a cat on his lap. Ali Safa has dependably been to a greater degree an introvert and never had any pets, yet he was intended to have this feline. It was the sidekick he never realized he required!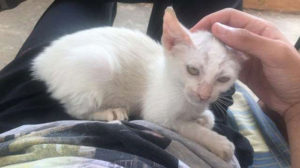 He was outside checking his phone when he happened to fall asleep. He awoke to what he initially thought was a rat. Once he realized it was a kitten, he got his phone out to take some pictures. There was an instant bond.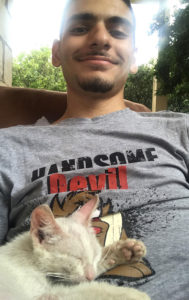 Ali posted the story to Reddit where it blew up, and people became curious as to what happened next. So he provided some updates:
Update 1: the cat just woke up, and the first thing she does is stpe down the sofa, look me in the eyes and start meowing non stop for 20 seconds, she's obv hungry, so guess who's sharing me the chicken wings my mom made.
Update 2: bath time 😀
Update 3: Bath is over, wasnt that hard she was calm and friendly but it took a while cuz those grey stains on her head that i thought were dirty turned out to be her fur color, and i spent like 15 min tryna clean it lol. I getting ready to drive her to the vet now! 🙂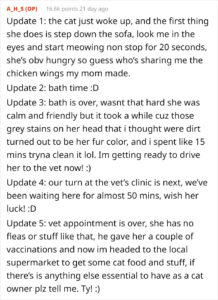 It seems as if these two are going to get along quite well and be best friends for a long time to come! What an awesome story.