A feisty duck has picked an altogether sporadic nearest friend – a loving splendid retriever. Satisfied duck owner Pam Ishiguro has a gathering of seven ducks anyway her four-year-old Pekin duck Rudy and splendid retriever Barclay have formed the most grounded bond. The Orange County-based mum expressed: "The animals are much like my two young fellows – they have a reverence detest relationship.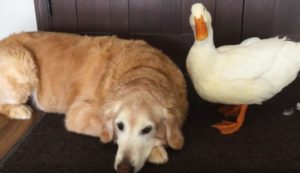 When they are as one, somebody is consistently seeking after or bouncing on someone else, anyway when they are isolated, they're constantly requiring each other."Over on Instagram, eight ducks and two mutts are endeavoring to be the best of friends. With well in excess of 120,000 supporters, doubtlessly they may succeed. In particular, a four-year-old Pekin duck named Rudy is best mates with his canine buddy, a Golden Retriever named Barclay.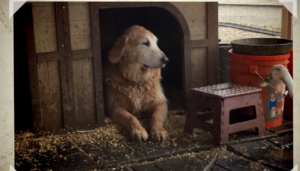 Their mom lives in Orange County, California, and she says, "The animals are much like my two boys – they have a love-hate relationship. When they are together, somebody is always chasing or jumping on someone else, but when they are apart, they're always calling for each other." The duck seems to be fearless, and the pooch seems to treat his feathered friend like one of his littermates.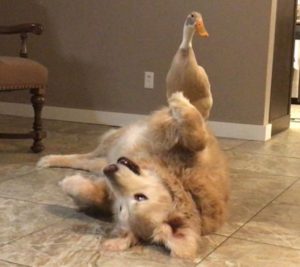 When Barclay wants to take a nap, along comes Rudy to pester him as brothers often do. It isn't long before Rudy is standing on the dog's back trying to start some shenanigans. Actions speak louder than words, so watch this dynamic duo in the fun video below.