Little Schnitzel, a minor 3-year-old Dachshund, shares the best obligation of fellowship with Chief, a goliath Connemara horse. Schnitzel is so attached to Chief that he frequently takes the resigned steed out for a stroll around the stables, much the same as a hovering pet parent!In this video, we see Schnitzel and Chief amid one of their lovable walks around the stable.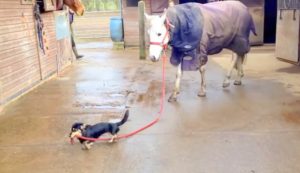 It is by all accounts an odd day to go for a stroll, as the grounds are as yet wet and the sky looks dismal, yet Schnitzel wouldn't miss his recess with his closest companion for anything on the planet! Schnitzel looks disarmingly charming as he solidly holds Chief's red chain in his mouth and leads the path through the stables for a laid-back walk.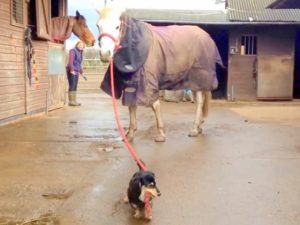 Boss also can't get enough of his little pal, as he compliantly pursues Schnitzel and appreciates each second of the organization of the adoring dog.Schnitzel is considerate to the point that he even stops and looks behind to check whether Chief is experiencing any difficulty tailing him. Notwithstanding their minor size, Dachshunds love being minding and capable.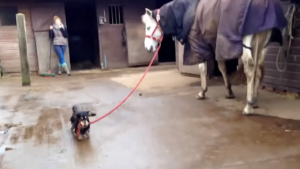 Schnitzel and Chief's adorable stroll will leave you with the biggest smile! Click the video below to watch the endearing bond between Schnitzel and Chief as they take a walk around the stable!