Rebecca Lynch is a kindhearted realtor who absolutely loves dogs. Rebecca is the president of Poodle and Pooch Rescue of Florida, and she's always looking for more dogs to help.In May 2019, Rebecca and her husband Kevin decided to go on a vacation to Savannah, Georgia. They drove up from their home in Florida and had a great time seeing the sights.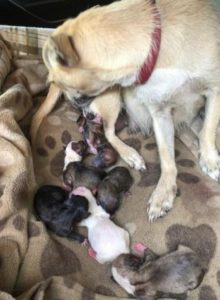 Before they headed home, Rebecca had one last thing she wanted to do: she wanted to save a shelter dog.Rebecca knew Georgia had a lot of high-kill shelters, and she decided she couldn't leave the state without saving at least one pup. "I know that Georgia has a lot of rural, high-kill shelters and I knew I wanted to save the neediest dog from a shelter before I went home," Rebecca told The Dodo.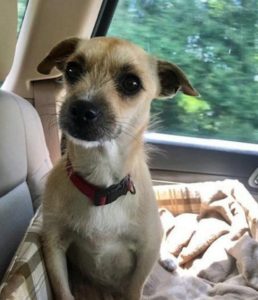 "I had space in my car and wanted to help." A friend told Rebecca about a poor little terrier named Lizzy who was at risk of being euthanized. The little dog had heartworms, a broken leg, and was pregnant. Rebecca immediately knew she was going to take Lizzy back to Orlando with her.Rebecca went to the shelter and picked up Lizzy. She put a bed down in the backseat of her car and made the pup comfortable.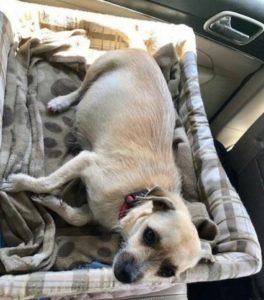 Rebecca stayed in the backseat during the drive, petting Lizzy and comforting her.Clearly, Lizzy felt at ease with Rebecca. Because an hour into the drive, she went into labor.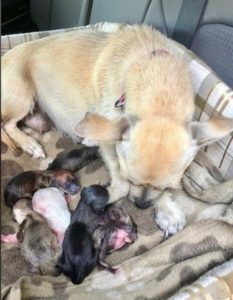 "About an hour in, she finally relaxed and rubbed her little head into my hand while I pet her," Rebecca said. "Once she felt safe and comfortable, she decided it was time. She started panting and she got restless; I told my husband, 'I think she's in labor!'"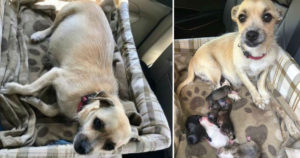 Kevin immediately started driving towards the nearest vet while Rebecca acted as Lizzy's midwife. Lizzy successfully gave birth to one puppy in the back of Rebecca's car. Then, they reached the vet's office, where Lizzy gave birth to five more puppies. All six puppies were healthy and happy!