Max the Great Dane simply needs to go swimming on a sweltering summer's day, yet his human mother won't let him get in the pool with his coat on—so Max gives her know, access no questionable terms, exactly what he considers such an out of line strategy. Furthermore, it's silly. In any case, we can't resist the urge to feel frustrated about this denied doggie.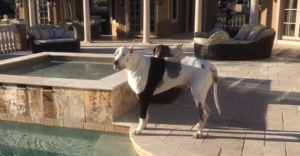 Poor Max! Who wouldn't identify with the longing to take a plunge when the climate's searing—particularly with such an enticing looking pool directly before him, simply trusting that a larger than usual canine will dive in? It's vague from this video why, precisely, it is that Max is wearing a coat, however clearly he wouldn't like to surrender either his styling outerwear *or* his day by day plunge. What's a pooch to do?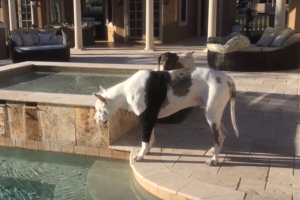 Maybe significantly all the more astounding—given how boisterous a complain Max is making—is that he's really hard of hearing, yet he appears to know naturally realizes that vocalizing, noisily, is certain to stand out enough to be noticed. It's dependably a delight to see an uncommon needs creature carrying on with the life of Riley, and obviously Max has figured out how to arrive in the lap of extravagance, even with his incapacity. He has a pool!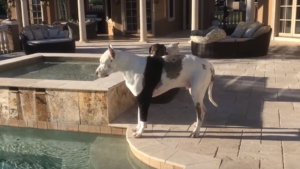 We'd be happy to wagered that, for a canine of Max's size, paddling around in the water gives some genuinely necessary help to throbbing joints that are doing the amazing activity of supporting the perfect Max's colossal, Great Dane measure. On the off chance that no one but Max could be permitted to do the Olympic-bore doggie paddle he was obviously destined to do! While we never prefer to do see a pooch denied of *anything* he needs (particularly an extraordinary needs hound), we do need to concede that this video is pretty darn interesting. Hopefully that Max gets over his failure soon, trench the coat, and gets the chance to appreciate the sweet, sweet tranquility of a cool blue pool on a hot day.