Mariesa and Chris Hughes are a charitable couple who both love hounds. The pair have spent their lives helping hounds find perpetually homes.When the couple met, Mareisa had two pooches and Chris had six. "[Chris] had a salvage before The Mr. Mo Project called 'Boisterous to the Rescue,'" Mariesa revealed to ABC News. "He was encouraging Moses at the time at that point wound up keeping him.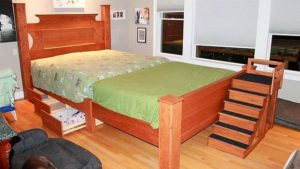 Sam had a great deal of dread and uneasiness and was never embraced out and Meatball has been returned multiple times. So at that point, he had the 6 [dogs]." The couple acquainted their canines with one another, and fortunately, everybody got along.Sadly, Moses passed far from malignancy around two years into Mariesa and Chris' relationship.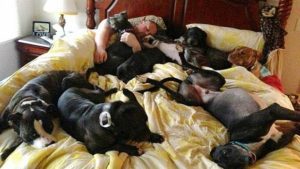 The couple needed to respect the little guy, thus they chose to begin a creature salvage association called The Mr. Mo Project. This association enables old and debilitated canines to discover always homes.Chris and Mariesa love their mutts more than anything on the planet. Thus, when they moved in together, they chose they needed to make an uncommon, unique bed that would fit the majority of their canines: Mabel, Gremlin, Meatball, Tejas, Money, The Stig, Sam, and Quinn.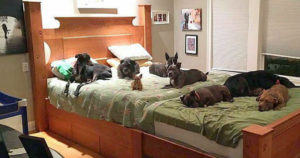 The couple contacted a nearby specialist named Mike Ford. He was touched by the couple's story and quickly agreed to build the bed for them. "I'm a dog lover myself, especially senior dogs," Ford said. "They came up with the idea for the king-sized bed and asked me to come up with the concept to make it all work." Ford build the bed out of solid cherry wood that could stand up to the weight of all the dogs.
He also included a staircase for the smaller pups who would have trouble climbing onto the bed. In addition, he built three drawers into the side of the bed. Ford also included a personal touch: he carved in a pawprint in honor of his late dog, Bailey.Mariesa and Chris absolutely loved the bed. Their dogs loved it too! "I wake up and I think, 'This is incredible.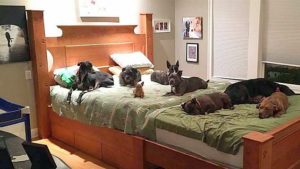 I'm like a contortionist with Stig spooning me and Gremlin between my legs and Sam sharing my pillow,'" Mariesa said. "They love it. They love to just be near us. So however we can make that happen, they're happy."Mariesa, Chris, and the dogs also do lots of other fun things together. The couple and their dogs always enjoy going out to the local parks. They also enjoy piling onto the couch for cuddles. Mariesa and Chris also often have foster dogs in their home, and their sweet pups are always welcoming to the new additions.