An UPS deliveryman and Golden Retriever had a handshake bargain set up: each opportunity the man dropped by the house, he was to give the canine a treat. Entirely standard stuff, isn't that so? All things considered, this continued for some time when one day the deliveryman neglected to bring the treats. The puppy was unsettled, so he brought matters into his very own paws!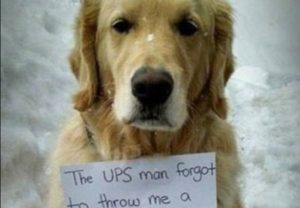 The puppy did what he thought he needed to do to get a treat and bounced into the truck while the deliveryman was dropping off bundles and not looking. The canine stowed away in the back of the truck and wound up taking a ride all over town! At the point when the man found the puppy back there later on, he took the Golden back to his proprietor.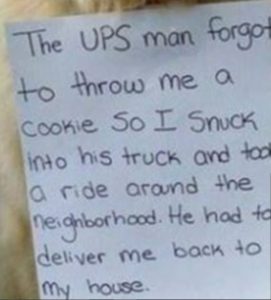 The pooch's proprietor found the whole circumstance humorous and took to Reddit with a type of "hound disgracing." He pinned a note on the dog and shared the picture with everyone."The UPS man forgot to throw me a cookie so I snuck into his truck and took a ride around the neighborhood. He had to deliver me back to my house." Redditors chimed in with their own stories of pets taking special interest in UPS guys, the top one being:The moral of the story for all mail and delivery people: make sure you never run out of treats on your routes or you may end up with a furry passenger!