Beagles are one of the most lovable and entertaining dog breeds going. Good natured and playful, they love any new experience. This is Buddha's first adventure in deep snow and he seems delighted. His family adopted him when he was just a tiny puppy, abandoned by his previous owner who brought him to a veterinarian to be euthanized.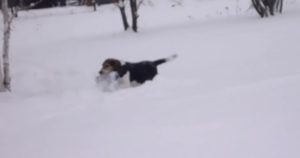 He had some challenging medical issues due to delayed treatment for a severe parasite infection. Although treatment was very straightforward, the delay caused Buddha to suffer seizures that affected many aspects of his life. Slightly brain damaged, he needed greater care and patience than the typical dog. Fortunately, his owner agreed to give this little dog to a family that would give him the care that he deserved. Despite his challenges, Buddha thoroughly enjoys life and he doesn't miss a chance to have fun. His limitations don't stop him from living life fully, and they don't affect his ability to enjoy food.
Beagles are particularly notorious for allowing their noses and stomachs to lead them into trouble. The children adore Buddha and constantly laugh at his antics. They brought one of his favorite toys outside after the first winter snowstorm. Buddha was thrilled to fetch the toy, but the snow was deeper than his little legs. He waded and jumped in the snow drifts until he discovered that he could burrow through them and pop back out. This thrilled the children who watched him disappear and then reappear. The games continued for hours until this chubby little dog had enough and was brought inside for dinner.