Seven-year-old pooch darling Emma Mertens, of Wisconsin, was determined to have Diffuse Intrinsic Pontine Glioma, an uncommon cerebrum tumor, and asked for that individuals send her photographs of their canines. Through the majority of the agony and enduring, hounds were the one consistent in Emma's life that kept her grinning.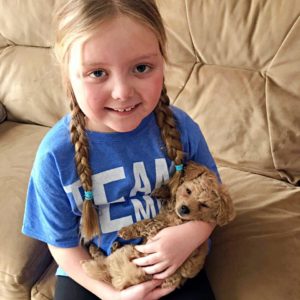 Before long, individuals from everywhere throughout the world were sending Emma photos of their little guys. Such a large number of, truth be told, that Emma's mother needed to ask for they just be posted on their Facebook page, since they were getting overpowered with mail and messages!
While taking a gander at all of the four-legged companions' photographs kept Emma grinning, she got an amazing shock that made her grin much greater.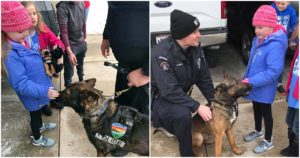 This past Saturday, K-9 officers from about 40 distinctive police divisions arranged before her home to pay her a visit.She had no clue that they were coming and was so exceptionally energized when she strolled outside!  "What an amazing and strong little girl," Hartford Police Dept's K9 Unit wrote on Facebook.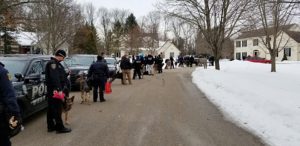 "It was such a great morning." Emma's mom posted pictures from her amazing morning on their Facebook page with the caption: "There are no words….Pure Joy! Thank you to everyone who took the time to organize and participate in this. Emma is still all smiles!" And just by looking at her big smile in the photos, it's easy to tell how much love Emma has for dogs.