Chris and Katie Downs, of St. Louis, have a six-year-old child named Leo. Be that as it may, before they had human children, their solitary infant was a puppy named Mello.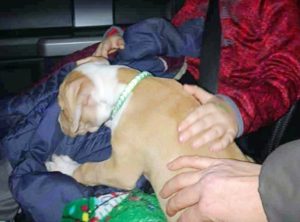 To a few people, hounds are pets, however to most, they are family. Mello was a piece of the family, and the Downses adored him like he was their child.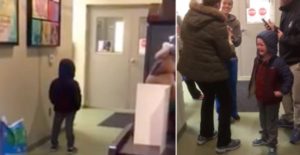 Before Leo was even conceived, Mello would cuddle up on Katie's pregnant stomach. What's more, when he was conceived, Mello rapidly turned into his defender. Both of them framed an uncommon bond and were totally inseparable.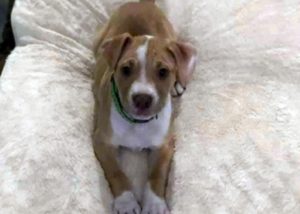 Sadly, Mello passed away this past September at 13 years old, and obviously, the Downs family was crushed. Initially, Katie and her husband vowed to never get another dog, since it was extremely hard to go through the heartbreak of losing one.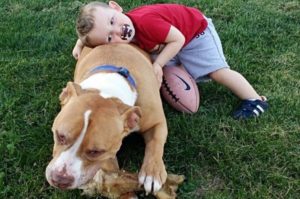 But Leo thought otherwise. His heart was empty without his canine sidekick, and the only thing that would help was another pup who would help fill that void. Katie scanned the adoptable dogs at Stray Rescue of St. Louis daily, until one day she came across a Pit Bull mix who had a striking resemblance to their late dog Mello. Katie knew it was meant to be and quickly put in an adoption application for him.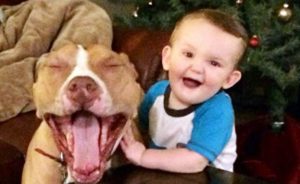 They were thrilled when it was approved, but the couple decided to keep it a secret from Leo to surprise him.As Leo stood staring at the door, out came a staff member holding his new furry companion. Leo immediately broke down in tears and was so surprised!Katie described it as the "most epic surprise" they've ever done for him.
And it's obvious just by watching the video how happy Leo was (and will be for years to come!) I think it's safe to say that Nutty-Buddy will help fill his empty heart back up with love!
This family came in with donations after their family dog passed away. What they didn't tell their son was they also adopted a puppy and surprised him. Grab the kleenex! ❤️🥰😭

Posted by Stray Rescue of St. Louis on Sunday, February 3, 2019