Milo, an eight-week-old Hound pup, was surrendered to a creature protect by a raiser when he was only five weeks old. Yet, he wasn't only any common puppy.Milo was brought into the world with paws that were topsy turvy, which was caused by intrinsic separation of the two elbows. Since both of his elbows were out of joint, Milo was not able walk.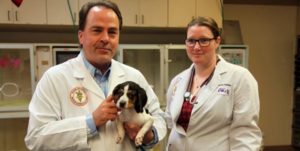 Aside from armed force creeping, Milo could never have the capacity to walk ordinarily except if he experienced remedial medical procedure.Thankfully, he was brought to Oklahoma State University's Veterinary Medical Hospital, where he underwent a long and intense surgery to fix his condition.The surgery took nearly three hours and was very complicated. "For each of his elbows, we had to go into the joint and restore the alignment," Dr. Erik Clary, associate professor of small animal surgery,told Fox 31 Denver.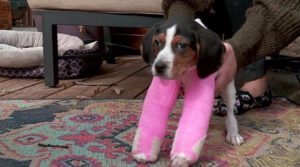 Thankfully, the surgery went well and Milo is now in a front body splint to stop him from using his front legs while he heals. In several weeks, the splint and pins will be removed.Milo still has a long road to recovery ahead of him, but he has proven how strong he is and that he has an amazing will to live.