We'll concede that a cute moving pet is our extraordinary shortcoming! They figure out how to fix any sort of trouble and inspire our spirits with their adorable, crazy moves. Lovebird, the parrot, is the most recent moving sensation to have entranced our hearts, and how! Lovebird's daddy has a genuine propensity for energetic, Celtic music.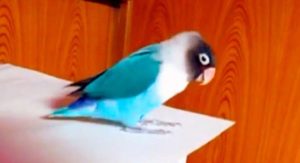 So consistently, he and his little birdie enjoy a little conventional melody and-move schedule. He has liberally shared one of their energetic sessions for our entertainment!In an enthralling video, we see Lovebird moving to the lively and heartfelt waterway pulsates from the melody "Cry of The Celts". The splendid turquoise-and-white winged animal looks jolting as she taps away beat-after-beat, in immaculate concordance. She even pauses and squeaks with perfect timing!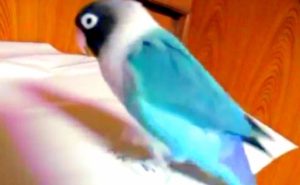 What's amusing is that while River Dancers engage in serious practice schedules to achieve perfection, Lovebird here is naturally gifted with the ability to sway to the complicated beats of her favorite music.She even stops and squeaks with flawless timing!What's diverting is that while River Dancers participate in genuine practice timetables to accomplish flawlessness, Lovebird here is normally skilled with the capacity to influence to the convoluted beats of her most loved music. Or, could she have been an Irish dancer in a previous life? We'll never know!Click the video below to watch darling little Lovebird dance to perfection!
Funny parrot tap dance :)So good :POriginal video: https://www.youtube.com/watch?v=u9uRkZcwLG8

Posted by Watchy on Tuesday, June 2, 2015