After 17 Hours in a Crate, This Neglected Dog is About to Meet Her New Family, Thailand has more than 750,000 dogs living on the streets. These homeless souls are often found in starved and abused state, with no one to care for them. Of late, the thriving dog-meat trade in Thailand has made the survival of strays even harder.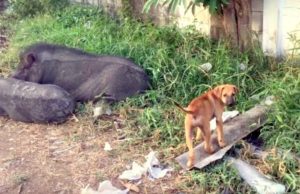 For Kanya and her siblings, the odds weren't looking so good when they were found by some good Samaritans in Thailand. They were struggling in a malnourished state, mostly eating out of the trash can. The rescuers cared for them within their limited means.Thankfully, donations from K9 Aod and LIFE Animal Rescue poured in, and soon, it was possible to arrange for them being transported to America to live better lives. The sweet pooches meekly entered the shipment crates, without any idea what awaited them.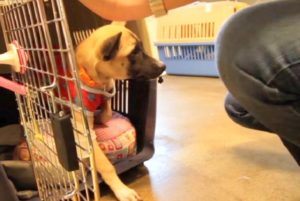 In the video, we follow Kanya throughout her boxed journey. She looks like Alice In Wonderland as she steps out from the crate. She obediently follows the LIFE volunteers, without knowing that a beautiful family was waiting to welcome her. Seeing her lovingly nestled between mom and dad has melted away our hearts!Click the video below to watch sweet little Kanya find her own happy ending!