In this day in age, it's hard to find stories that shock or rile us up anymore. Things that would have never been seen or accepted 20, 30, or 40 years ago seem to be commonplace here in 2019. However, stories like the one you're about to read and in the video below are just appalling – no matter what year or era it may be. Guide dogs are truly special, aren't they? They assist humans in so many ways. Many of us take the things that guide dogs assist with for granted – crossing the street, walking into an elevator, or hearing a doorbell.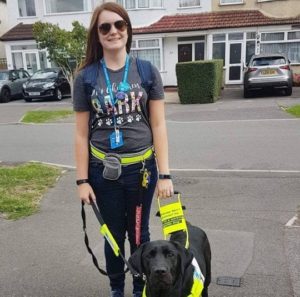 So many people rely on these extraordinary dogs to simple live normal lives – like 22-year-old Megan Taylor.  Warning: expletives are in the text below. Recently, Megan stepped onto the bus with her trusty guide dog, Rowley. It wasn't long until a rude passenger piped up and commanded her to 'get her fucking dog off'.Many people are ignorant about guide dogs – how they should be treated or what they're used for. This particular passenger, however, seems to be one of the most ignorant folks we've come across.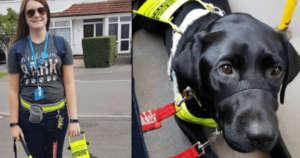 The passenger didn't believe Rowley was her service dog because he was a black Labrador – she was convinced they could only be yellow Labs. Megan, from the UK, said that as soon as she was on the bus, a woman approached her and rudely stated, "Why is there a fucking dog on the bus? Get it off." Megan, understandably in shock, tried to calmly explain to the ignorant woman that Rowley was her assistance dog. The woman snapped back and said that she was a liar, "guide dogs are yellow Labradors and your dog is black," were her ridiculous words.  "I tried to explain to her that guide and assistance dogs can been any color and don't have to be Labradors, although Rowley is. She told me I was wrong," Megan told the Echo.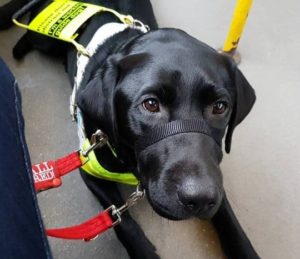 "I decided at this point there was nothing I could say to educate this woman and that it wasn't worth my time. I instead chose to ignore her while she continued to talk nonsense."Megan relies on Rowley because she suffers from 'episodic blindness' – a condition she's dealt with since a traumatic head injury at age 15. In addition to her episodic blindness, the 22-year-old also deals with several other medical issues including hearing loss, frequent fainting, and dizzy spells. Rowley has been her helper to get her through these problems. "I suffered multiple fractures to my skull in the incident which left me with multiple disabilities. I can temporarily lose my sight without warning at any time, which is truly terrifying," she explained. "Even when I can see I become so dizzy and disoriented when walking that I bump into obstacles and trip over things."  Rowley the black Lab is her second service dog, her first dog, Ruby, since retired. Rowley helps Megan with many of her daily tasks, everything from emptying the dishwasher to helping her untie her shoes.