A Peruvian news reporter interrupted a live report on the severe flooding in his country to rescue a dog. Aaron Rodriguez, a reporter for broadcaster Latina Noticias, had travelled to the area of Piura to cover the severe flooding in the northern region of the country at the end of March 2017.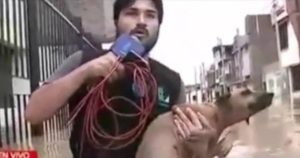 Rodriguez was standing waist-deep in a flooded street and broadcasting live when he and the cameraman spotted a dog frantically swimming in the flooded streets looking for a patch of dry land and somewhere safe.Aaron Rodriguez, a correspondent for supporter Latina Noticias, had made a trip to the zone of Piura to cover the extreme flooding in the northern area of the nation toward the finish of March 2017. Rodriguez was standing abdomen somewhere down in an overflowed road and broadcasting live when he and the cameraman detected a pooch quickly swimming in the overwhelmed lanes searching for a fix of dry land and some place safe.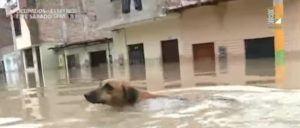 Rodriguez and the camera crew followed after the paddling dog for a bit before he was able to grab hold of the struggling dog. At one point, he is submerged up to his shoulders as he holds his microphone, cell phone and cables in one hand and the dog in the other.Rodriquez eventually navigates his way through the flooded streets with his co-worker to a patch of dry land where he could place the dog down and get help.