Dogs can sometimes behave exactly like little children. They shower us with undying love and affection, so it's only natural to expect nothing less from us. And if they don't get what they want, than a tantrum is imminent. But at the same time, they can't seem to quite understand that loving another puppy doesn't mean that we love them any less.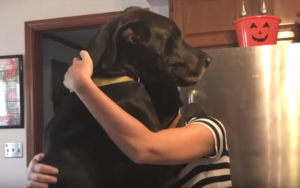 And that's a lesson that this dog owner had to elaborate to her jealous dogs.Dogs are such loving animals, and that's why they have the potential to become really jealous when their owners show any kind of affection to anyone or anything else.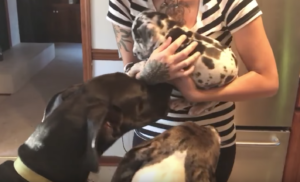 You have to admit it feels good to know they care so much! An extreme example of this jealousy can be seen below involving a giant Great Dane. Mom introduces a new puppy to the dogs, and they check it out calmly and carefully. Mama's big boy says a few words, but everything seems to being going as smoothly as possible.Mom sets the puppy down, and it crawls over to its new bed.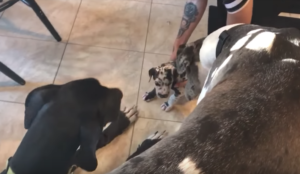 That's when the Great Dane shows his true colors by letting his jealousy out! Mom's going to hold some other dog? Well now she has to hold this gentle giant. He puts his paws on mom's shoulders and doesn't want to let go as he shares a moment of affection.Have you ever seen such an incredible display of jealousy? You gotta love it! You can tell his mama loves him very much.