A 3-year-old blind pit bull found abandoned on a park bench has a second chance at a loving home. Poly was found in a park in Santa Maria, California, by a Santa Barbara rescue on Oct. 14. She got the attention of Jennifer Wales, the president and founder of Foreverhome Pet Rescue, when Poly popped up in Wales' Facebook feed.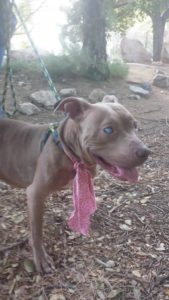 "I immediately called the rescue and they told me they needed a rescue commitment. I've been rescuing dogs for 25 years and she [Poly] reminded me so much of another dog that changed my life, who was also a blind pit bull," Wales said.A blind pit bull was found on a park bench refusing to move. It turned out the poor thing was used to breed puppies and then abandoned. She was so scared and didn't know what was going on. Thankfully, she was rescued by the perfect people. After being taken in, it was discovered that Poly had a severe heart condition.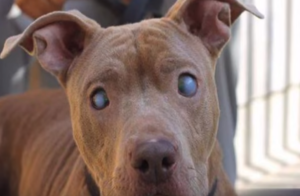 This is about the time her story went viral, and she made a lot of friends who helped her get the medical care she needed. Poly's unthinkable situation was turned into a positive through PolysFund.org. The organization is paying it forward in Poly's name to help other abused and neglected dogs get the treatment they need and eventually find their forever homes. Sadly, Poly passed away on April 27 of 2016, but her legacy carries on. Check out Poly's Fund on Facebook to see all the good being accomplished thanks to the sweet pit bull and the amazing people behind her rescue.