Nicki Clawson had been fostering a dog from NorthWest Boxer Rescue named Cookie. And on the day she was supposed to meet with the potential adopters, something peculiar happened: the adoptive family didn't show up.She went to look up their number to give them a call, and she couldn't believe what she saw — it was her own number. That's when the tears started to fall.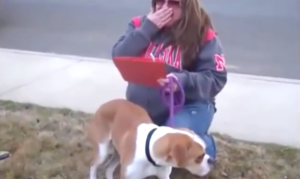 It was a trick all along, and the rescue played it out perfectly. What a surprise!So many dogs are abandoned every year. Many end up in shelters, waiting to be adopted by a loving family. Thankfully, there are amazing volunteers who help take care of these stranded dogs. Nicki Clawson had been helping out the folks at NorthWest Boxer Rescue. She was a foster parent, taking in stray dogs from the shelter until a family could adopt the furry friends. Foster parenting is a very important part of the rescue for dogs.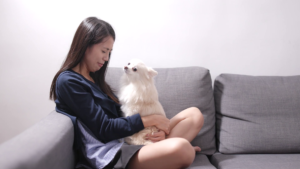 Shelters can be extremely stressful and keeping the dogs in a loving home would help them get ready for a permanent family of their own.Clawson welcomed a new boxer, Cookie, into her home, but this dog's journey to a permanent family would be a confusing one. It would leave Clawson in tears for days.Soon, dog and foster mom fell in love. Cookie's sweet and gentle nature won Clawson over and, for a while, they were happy. Then news came from the shelter that Cookie was about to get adopted. They set up a meet and greet so that the new family could meet this gentle pooch. After deciding on a meeting spot, Clawson headed out.