Cats and dogs may be believed to be enemies by humans. But after reading this post, your opinion will definitely change. We all need a friend who is there with us at all times. But it's only in the times of distress that we come to know who our true friends are. This cat with a big heart helped a little puppy who lost his mother.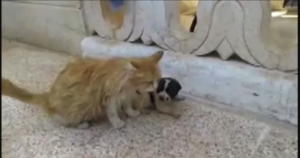 Lying helpless on the ground, this puppy has nowhere to go. He was crying for help and it is intriguing to see that a cat came for his help. The video in the post shows how the cat takes care of the little puppy. You are not alone anymore, little pup. The passionate cat is here to help. Look how adorable they both are. The cat gently picks up the little pup and decides to take care of him.Those who were thinking that cats are selfish and mean, it's time to change your views.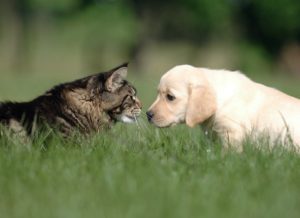 The little cat surely deserves all your love and affection.The little dog was motherless. Lying on the floor, the cute little canine cried her eyes out, and that got to the cat's heart. Mama cat couldn't stand it! She picked up the small dog and decided to be his mom. See how she gets him off the ground all so gently and carries him off to safety. If this doesn't make you love this cat, nothing will! The motherly instinct of this cat is so beautiful.