For British Army veteran Sean Laidlaw, there was just a single thing that kept him rational while in Syria—and that was his pup, Barrie.The 30-year-old previous spear corporal in the Royal Engineers had discovered the pooch covered underneath a section of cement in February of this current year. It was whining while settled in the rubble of a school that had detonated and fell. In spite of the fact that Laidlaws' the person who spared her life, he says she spared him.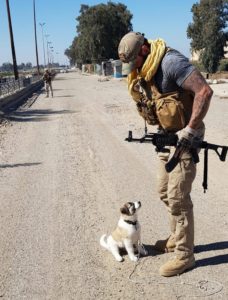 He told the UK Telegraph: "It gave me a touch of typicality. She unquestionably kept me normal." "You can only imagine how bad Syria is, and to be able to come back to my camp and train her for three hours, take her for a walk— things like that really took my mind away from where I was."Laidlaw named the puppy Barrie before he realized it was a girl. The two spent all their free time together, and she'd even sit in the passenger seat while they drove into town.Three months after rescuing Barrie, the two were unexpectedly separated.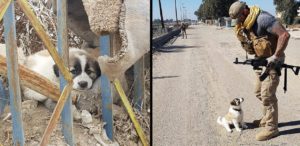 On a short trip back to the UK, Laidlaw's contract was cancelled— and as you can imagine, he was completely devastated. "My biggest issue was that I never had a moment with her to say goodbye as when I left I thought I'd see her in a couple weeks." "I might be one of the only people who was unhappy not to go back to Syria," he recalled. Laidlaw wasn't about to give up on Barrie, however.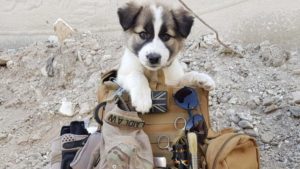 The veteran saved up £4,500 before contacting War Paws, a charity in Iraq. Working with Laidlaw, War Paws helped get Barrie to Iraq, where she was vaccinated and checked. She was then flown to Jordan in August, where she completed further health checks. Finally, she was sent to Paris, where Laidlaw was able to go pick her up.