The Humane Society of the United States was assisted by the Wolfeboro Police Department in the rescue of 84 Great Danes from a New Hampshire home. The suspected puppy mill was raided at approximately 8:30 a.m. on Friday, June 16 and found that the dogs were being housed in unsafe and unsanitary conditions.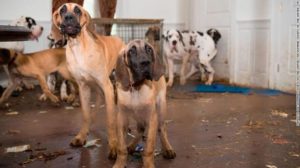 Thankfully, these beautiful dogs have been safely transported to a temporary emergency animal shelter at an undisclosed location where they will receive any necessary medical treatment.Glancing at the opulent white mansion from the sidewalk, it seems just as magnificent as the other homes lining the high-end Wolfeboro, New Hampshire, neighborhood.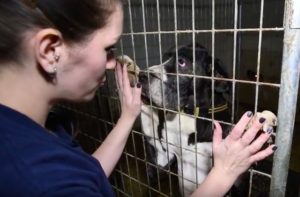 But what rescuers found hidden inside was nothing short of a nightmare. With months of urine and feces coating the floors under them, dozens of Great Danes sat huddled in corners and behind run-down furniture. They slid around on the thick layer of waste as they tried to walk.Some dogs stood on top of tattered mattresses and barked out in fear as rescuers walked around the 20-room mansion. Even more dogs were hidden behind doors and locked in filthy wire cells with no food or water.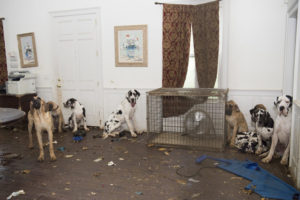 When a rescuer approached one dog's cage, he stood up and tried licking her hands through the bars.This was everyday life for more than 80 dogs living at the home of Christina Fay, a large-scale Great Dane breeder who, prior to her arrest, sold the dogs online for upwards of $2,000 each. An investigation into the suspected puppy mill was mounted last June when local law enforcement scoped out the property after noise and smell complaints. Police and HSUS seized the dogs soon after and brought them to a shelter built specifically for them.