Semper the Husky came into Kameroun Mares' life at a time she needed him the most. She was being treated for acute lymphoblastic leukemia and needed love and companionship more than ever before. Just after getting chemotherapy she met the young pup and decided to bring him into the family.She named him Semper Fidelis — "always faithful" in Latin — and they bonded instantly.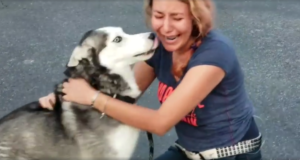 But when she had to go to California from Florida for further medical treatments, something terrible happened. She received a call from her now former roommate who said Semper had gone missing. After trying everything possible to track the Husky down, Kameroun asked private investigator Ana Campos for help.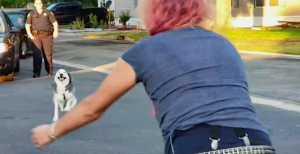 It turned out Semper had been taken by someone who replaced Kameroun's name on the microchip, and the company didn't check to see whether or not someone was already registered as the owner. Ana saw that Semper had been put for for sale on Craigslist for $200, and that's why all of Kameroun's searching had been unsuccessful.
But two years later, it was time for them to be reunited. And let's just say it didn't disappoint…Not only is Semper back with his family, but his owner is now in remission! No one could've scripted a better ending to this story!
Watch at your own risk of crying immediately. Here is the video and audio from Kameroun Mares reunion with her dog Semper today. 😭💙 and Ana Campos Investigations – South Florida.Please keep in mind Kameroun is just 26 years old. She was 23 when this began. For a young girl to have the wherewithal and courage to hire a private investigator and attorney is remarkable. Shame on Petkey pets for causing her to suffer and spend her savings on fighting for her dog back because of the role they played. He was stolen and sold by her roommate 2 1/2 years ago. She was told he was lost on April 30, 2016. But on April 11, 2016 the buyer added their name to his AKC Reunite "registered chip". They registered this registered chip on Petkey pets instead. Petkey pets did not bother to see if he was chipped already. A lawyer was retained. An ex-parte, pre judgment. writ of replevin and request for a 'break order' was filed. The Judge ruled in her favor and the Sheriff's office seized the dog this morning returning him to the person who always had superior ownership rights. It was a great day.( Ellen DeGeneres ) ( Good Morning America ) ( Live with Kelly and Ryan) ( Today Show ) ( Kathie Lee and Hoda ) ( The View ) ( Fox & Friends ) ( Morning Express with Robin Meade )

Posted by Ana Campos on Thursday, October 18, 2018