I can't think of a better gift you could give your child than to grow up with a pet. You may not realize it when you're young, but having a pet around the house can help you grow and learn in so many ways. Dogs, like the loving protector in this video, act as best friends and babysitters. They also make the tough times a little bit easier for our little ones.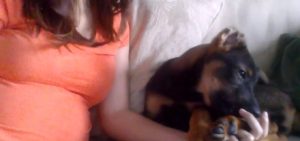 However, just like when you bring a new pet home, there can always be a little healthy competition between the new baby or new pet and preexisting family members. It's funny how dogs like this one can sense when a woman is pregnant and react in such different ways — while some canines get super protective of their mommy or daddy, others get extremely jealous of the tiny newcomer.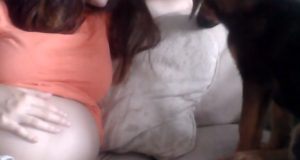 This is a story of an cute little puppy called Junie and her pregnant mommy! Now I'm sure that when Junie looked at her mommy's growing belly, she would have thought about all the possible things her mommy would have eaten to gain such a massive belly! Of course the little one doesn't know that her mommy is pregnant and that she'll soon be meeting her little sister! Awww!! Well today's the day mommy decided that it was time to tell her fur kid that they will be expecting another guest, a precious one, just like her!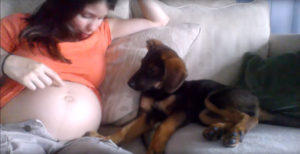 So she tries to explain, but the pupy misunderstands hilariously! But the story takes a magical turn when Junie utters the most precious words in the world . You've got to watch it for yourself, it's priceless. Welcoming a baby doesn't mean that you have to let go of your fur baby…with adequate training, your fur kid will turn out to be your baby's best friend forever , Don't forget to share this beautiful love story with your friends.