Chicago resident Roman Mordarski's 16-year-old Jack Russell terrier, Toby, is deaf but a lovely caring sweetheart. He waits by the window every day for the arrival of Mordarski's car, to know he's home safe and sound. Things went a little differently on September 9, 2018, when Mordarski and his brother had to bring in a rug from the back of the house that was drying out.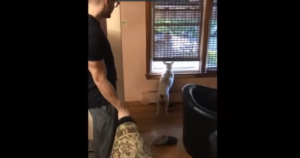 As they entered via the home's back door, they found Toby still waiting by the front window staring at the car. With a gentle greeting from the owners, the confused pooch finally realized they were home and couldn't wait to give them an excited greeting.A adorable deaf dog waiting for his family to return got a sweet surprise when they came home through the back door.
Toby's family filmed the adorable video of him peering through the front window. He's completely unaware they are standing right behind him. "My dog Toby is almost 16 and completely deaf," explains Toby's human. "We went through the back to bring in the rug that was drying outside.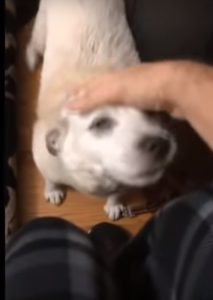 Toby saw my car but didn't hear us come in." Toby does sense some movement behind him and as soon as he turns around and realizes they are home he jumps down to say "hello". His tail wags happily and he's greeted by his owner. "Hi, my good boy," he says as he pets him.