Dogs are amazing! They appreciate things that we often take for granted. Sometimes they don't just appreciate them, they totally freak out! You know what I'm talking about. They get all jumpy and screechy. And have those epic tail wags. Well, that is exacly what happened when this Westie saw her new home in Florida. Christy and her dad have moved into a new home in a new state. And while it can be stressful, it can also be a huge adventure. Christy is uncertain. Will she like her new neighbors? Isn't this video just adorable?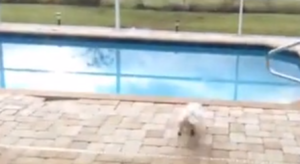 We have never seen that level of athleticism on a dog! Christy looks like she is having so much fun! She has also found a great way to overcome and beat the heat! This dog alone is so cute, the actions she does are just the icing on the cake! Don't you wish that you had a dog like this in your home? She really is something special! This dog is crazy smart! Watch how eager she is to jump into the pool. She even manages to convey the right message to owner, towards pointing its head towards the pool direction.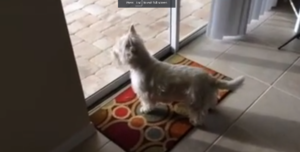 Now that's something you don't see every day! Sometimes our pets will do whatever they can to get what they want, from begging you for a treat, or giving them sad puppy eyes at the pool. You can tell that she really wants to go outside and play in the pool, she's willing to go through all that trouble just to get in. Christy sure knows that there's a way she can convince her owner to open the sliding glass door so that she can cool off in the pool. Watch how she jump into it the moment owner opens the door!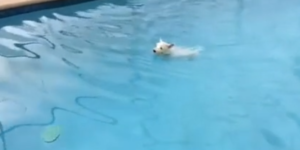 Will the dogs at the dog park be nice to her? Ultimately, though, it comes down to one thing for her. Will she have that epic backyard she has been dreaming about? Once Christy looks out the back doors, she loses it. But in a good way! Can you guess why she's so excited? It's paw-recious! Trust me, you don't want to miss this video and you want to watch it all the way through (and then repeat it because it's that good!)