West York Borough Police has a new member of the force, a K-9 detective named Prince. In his public debut in early April, the then 13-week-old bloodhound rested in the arms of his handler, Scott Musselman, as officials talked about how he will help to find missing children and older adults with dementia. "I love him. He's my little buddy already," Musselman said after a news conference.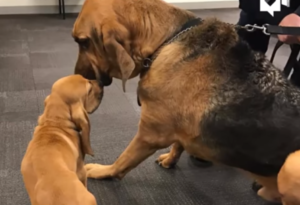 Prince was sworn in by District Judge Jennifer J.P. Clancy in her Spring Garden Township courtroom on March 30th, 2017. Prince will assist the Missing Child Task Force, also known as the York County Child Abduction Response Effort Team, said Dana Ward, a detective with the York County District Attorney's Office.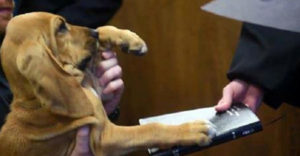 You are about to witness an official swearing in ceremony for the newest member of West York Borough Police department's missing child task force in Southeastern Pennsylvania! His name is Prince, and no, he isn't human – it is a three-month-old bloodhound.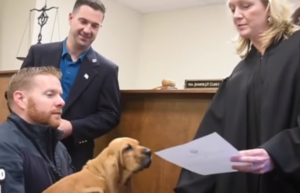 The officers take the swearing in process very seriously, and Prince put his paw (just like the human officers do) on a Bible! Musselman said that Prince is already his little buddy! As part of the Missing Child Task Force, Prince and Musselman will work together to find children. First, Prince, will have to undergo on-the-job training, he is only three months old, after all!