Pools and lakes and the ocean are all a big part of summertime. Most people love to swim. Water is so refreshing and can be so fun! Dogs are no different, especially the playful breed of Golden Retrievers!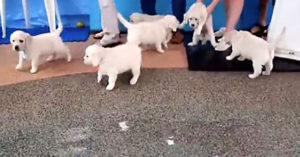 This litter of eight English Cream Golden Retrievers (can you say 'beautiful'?) needed an introduction course to swimming. So they were taken to a pool at Rummy's Beach Club in Spring, Texas. It was here that they would swim for the very first time. And they needed very little help to get started!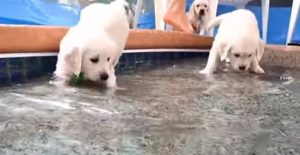 The puppies were only five weeks old at the time, but they were just as excited about swimming as a seasoned pooch would be! Most of them were a little hesitant, but one of them jumped right in without any pause for thought!
How cute! These little pups are definitely natural swimmers who love the water. And watching swimming puppies has to be one of the cutest things there is!
Each one of these sweeties takes to the water in their own, distinct way. Some jump right in, some touch it with their front paws and decide it is still too wet right now, some fall in the water thinking there's nothing to it and immediately regret that thought the second they are in the pool and we just can't get enough. The camera keep panning around them and we just want to get in that water with them!