Heroes come in all different shapes, sizes and forms. You wouldn't expect a group of bikers to stop like this, and stop traffic, to help a dog that is running wild on a busy highway. The dog comes so close to getting onto a busier section on the road but a very brave man gets off his bike and runs after him, herding him toward his friends
While I'm not sure if this was a stray dog or not, what I do know that he was on a busy highway looking for a place to hide. Because a dog's hearing senses are much stronger than a human's, high pitched sounds like horns or tire screeches can scare them so much that they frantically start looking for a place to hide.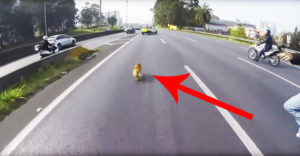 They're like children, you know and should be treated with great care.
This poor dog had no idea that the road he ended up on was a busy highway and we know that while some people care, others just don't. Thankfully nothing happened to this fur ball because a group of bikers came to his rescue. Of course it took them time to catch the poor dog, in the end finally they were able to get him back to safety!