After eight years and one day on the job, it was time for the loyal K-9 to hang up his badge for good. In a bittersweet and emotional moment caught on camera, Schaffer sends out the pup's final call. With that many hours logged together in the squad car, parting ways would be challenging.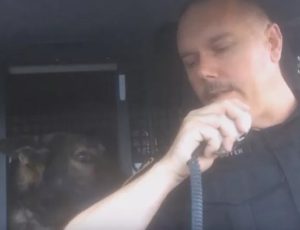 But with a big of gray on his muzzle, it was time. What the devoted K-9 did not know is that he would never hear the static of the radio again. This call would end up being his last. But this particular call was different. Settled into the seat he had grown accustomed to mere feet away from his human partner, Faust's ears perk up hearing the familiar sound of the officer's radio. But Schaffer knows that his incredible K-9 deserves the very best.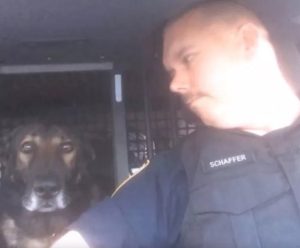 This is the honorable way for him to wrap up his final shift. As Special Agent Bryan Schaffer sends out the K-9's last call, he settles into his seat as a female voice begins to speak. Schaffer cuddles with his partner as he listens to the emotional send-off. Special Agent Bryan Schaffer gives K-9 Faust a few good scratches and head rubs while the dispatcher walks through his send-off. It was a tender moment caught on camera for all of us to witness. "Thank you for getting us both home safe after every shift," the officer later wrote on Facebook. The stoic officer takes just a second and gently, tenderly kisses his partner on his nose.