Rescuers received word about a badly injured stray Poodle, so they headed out to the desert bright and early that morning. The poor thing was found in the bushes sleeping on an American flag blanket and missing a paw. He needed to be rescued and looked at as soon as possible.
The dog wanted nothing to do with humans and barked as rescuers approached. But Loreta approached slowly with food, and the dog was definitely interested in that.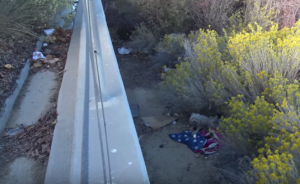 He would eat the food but also kept retreating into the bushes out of fear.Despite everything that had just happened, Washington was extremely playful when they got him into the car. He was so friendly and upbeat with such a bad injury, and it took everyone by surprise!