Neno's owner could no longer afford to take care of him, so he was surrendered to Fort Worth Animal Care and Control. It was a moment that turned his life totally upside-down. After being dropped off at the shelter, Neno became very scared and anxious. In fact, the sweet, tan, mixed-breed dog couldn't stop shaking. When shelter worker Paige King saw him in his kennel – she was heartbroken. "He was terrified," Paige told The Dodo. "He was sitting still in the middle of the kennel with his legs tucked so tight.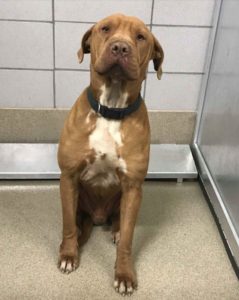 He would turn his head sideways to avoid looking at me." Paige immediately grabbed her phone to film the sad dog in hopes that posting it online would help find someone who wanted to help Neno.
The tear-inducing video has since been viewed over 250,000 times, and soon, it caught the attention of Laura Rodgers. "The moment I saw his video, I cried," Laura said. "I could not get him out of my mind.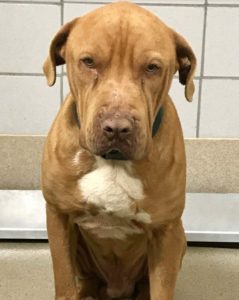 That video moved me that much." The video struck such a chord with Laura that she jumped in her car the next morning and drove over an hour to meet Neno.  "I don't think I could have lived with myself if I didn't know he was out of there and safe," she said. "There were many people commenting on the Facebook post saying they wanted to adopt him, but 24 hours later he was still there." After arriving at the shelter, Laura was informed that a couple other people had come to visit Neno, but after meeting him, they decided he wasn't a good fit.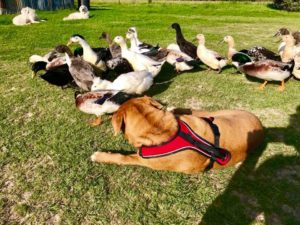 This didn't detour her and she still wanted to meet him. The sweet dog was coaxed out of his shelter and brought outside. Laura filmed this video and noticed that he had a bit of a wobbly walk – wondering if he had a neurological issue. Laura brought Neno home and schedule a vet visit. They discovered that he was anemic, due to a tick infestation that he had. They also found that he has an underactive thyroid which needs to be stabilized before they can perform any neurological tests. The poor guy also has heartworm that will be treated soon.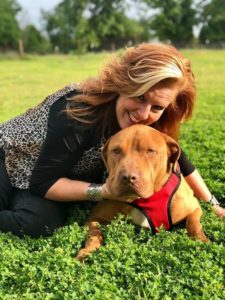 Laura was happy to have Neno safe and sound – she suspects he was kept outside on a chain, as he had a number of pressure sores on his body. Neno isn't the only happy animal in Laura's household. He's become best friends with her other dogs and even likes to hang out with all of the ducks on her property. Since his first video, shaking in the kennel, went viral – people wanted to know he was okay. Now, he has his very own Facebook page so people can keep up on his progress.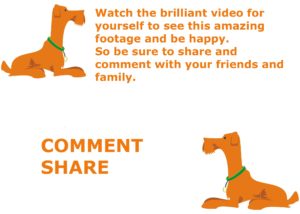 ADOPTED!!!! <3 thank you for all the shares! He will be getting a page of his own soon so you can follow him Ugh I felt so bad for him! Several dogs were just being crazy and he was so scared 😞 Neno 38252614 is 3 yrs old, 79 lbs, hw POSITIVE, owner surrender "can't afford"❗️I'm not going to know yet whether he is good with other dogs or even humans! I will try to get info in the morning 🔅This animal is located at Fort Worth Animal Care and Control/Chuck Silcox Adoption Center, 4900 Martin Street, Fort Worth 76119. Do not call the shelter, adoptions must be done in person, all rescue tags must be sent via EMAIL:fwacctag@gmail.comDO NOT CALL because you will get the city call center🔆

Posted by Paige King on Monday, April 9, 2018
First time we took Neno out of his kennel at the shelter.

This was the first time we took Neno out of his kennel at the shelter. I really felt like the video Page posted of him shaking in his kennel was heartbreaking until I watched him struggle to get around and even fall down. This is when I knew I was not leaving the shelter without him. I knew it would be a challenge to take care of him and that is why several others had passed on adopting him. I am thankful that they realized they would not be a good fit Neno. One can only hope that they adopted another dog while they were there. Facebook has been a fabulous way to help get dogs adopted. Just keep in mind, that when someone posts in the comments they are going to go adopt the dog…. it doesn't always work out. If you truly want to adopt one you see posted, get yourself to the shelter and get it done! There are a lot of "Neno's" at the shelter! Go save one today!

Posted by Neno – The Former Shelter Dog on Friday, April 20, 2018